2016 Levels Coaching Team of the Year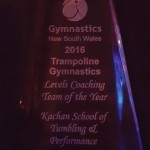 We are very pleased and proud to announce that Kachan School of Tumbling & Performance have been awarded the 2016 Levels Coaching Team of the Year trophy at the Gymnastics NSW annual awards night, for the 2nd consecutive year.
This award is the culmination of results from the 2016 State Levels Championships and National Club competitions.
We had a team of over 60 athletes from KSTP at the State Levels Championships last year.  These athletes competed in tumbling, trampoline and double mini tramp, representing all levels from our junior 'first time' competitors competing in Level 1 right through to our International competitors competing in levels 9/10.   With so many personal bests, KSTP walked away from State Levels with 14 State titles and Overall Club Champions in the State for trampoline sports.
From the State Championships 21 athletes who competed in level 4 and above were selected to compete at the National Clubs Competition held in Bendigo.   The athletes again competed across tumbling, trampoline and double mini tramp and provided KSTP our strongest club results to date with;
7 National Titles

Champion Club in Levels 6 and 7,

Champion Tumbling Club (for the 2nd year in a row),

3rd Overall Club in DMT and

2nd Overall Club for trampoline sports.
Congratulations to our coaching team who work tirelessly day in day out, always striving to reach new goals within their respective programs.  We thank them for their dedication to our club and their athletes.
Finally to the athletes for such outstanding individual and team results throughout 2016.  Well done to everyone!!  We look forward to watching you all grow stronger in the year ahead.
We love our job and the life it provides us and we are so proud of you all.