Advanced athletes participate in Gymnastic NSW 'Aspire To Lead' program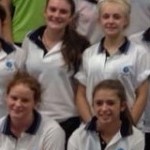 Congratulations to our four Advanced athletes Ebony Anderson, Lyndall Jones, Kara Thompson and Jorja Wilson who completed Gymnastics NSW Aspire to Lead program over the weekend.
The girls were selected by Kachan School of Tumbling and Performance to participate in the course as they have shown maturity and skills required to become future leaders within our club.
The Aspire to Lead program was developed by Gymnastics NSW to assist young athletes who show an interest in developing their skills to take on additional roles within the sport of Gymnastics including coaching and helping at events.
We are so proud of the girls for taking on this next step and proving their commitment to the sport and their personal development.
To see photos of the weekend go to our gallery page.  For further information on the Aspire to Lead program, head to Gymnastics NSW.