Senior State Championships
NSW Gymnastics Championships Wrap Up
Kachan School of Tumbling and Performance had a great weekend competing with close to 30 athletes hitting the floor. Taking out 7 tumbling state championship titles, along with coming out on top in the team tumbling event.
The 2017 Senior State Championships sees the top gymnasts from across New South Wales compete across five gymsports, over two action-packed weekends of gymnastics.
For two long days, our young team battled it out with the best tumbling, trampoline and dmt athletes from across NSW, fighting for state titles and their place on the state team for the Australian Gymnastics Championships to be held in May.
We are so proud of all our athletes and would like to congratulate everyone on a job well done. Special mention goes out to our new tumbling State Champions:
Mackenzie Lewis – u11's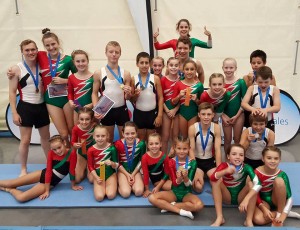 Joshua Blench – u11's
Cheyanna Robinson – 17+
Damon Louwen – Youth international
Molly Mamo – Youth International
Ethan McGuinness – Junior international
Jack Hemmings – Senior international
These results and other consistent performances saw KSTP place 3rd overall after all results. Never have we placed higher than 5th so we cannot be more proud of our little but mighty team.
Thanks as always to our awesome families who volunteered the ongoing support never goes unnoticed.
The great results mean KSTP now have 25 athletes who qualified for a place on the State team to compete at the Australian Gymnastics Championships in all age events as well as international stream tumbling and for the first time ever, youth and junior international DMT.
Team NSW will head to Melbourne for the Australian Gymnastics Championships, held at the Hisense Arena from the 22 May – 4 June 2017.
Complete results from Senior State Championships can be found at www.gymnsw.org.au/stateresults