Silver In Bulgaria!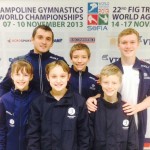 As you all would know, KSTP were so proud to boast that all 5 members of the Australian tumbling team for the World Age Group Championships in Bulgaria this year were from our club, along with Dima who was once again selected as National coach. With the competition all said and done and just about everyone back home and safe, we are so pleased to announce their fantastic results and say CONGRATULATIONS to them all!!
All 5 athletes performed well and represented themselves, their club and their country  very proudly. Dima would like to state very strongly that despite some of their unfortunate circumstances while they were away, they all made a lasting impression on other countries and coaches and therefore proved that tumbling does in fact exist in Australia and it looks like it has a very promising future!
So, to the results…….
Jack (15/16's) and Hayley (11/12's) after working so hard to get there, especially Jack who really had to up his degree of difficulty, did not have the best run from the time they arrived in Bulgaria. Sickness, injury, confidence and in general the pressure of an international event affected their performances and they were unable to tumble to the best of their abilities. However, their technique and style was noted by many there and we are sure they will get right back on track in no time! Jack finished in 27th place and Hayley, withdrawing after her 1st pass, finished in 18th place.
Blake (13/14's) as the first Aussie up tumbled very well in the Prelims and showed his experience going out there and taking it all in his stride. He was .2 off from making it to the finals and finished in 10th place. Dima felt he was strong enough to gain a spot in the finals but at this level the smallest of margins can set you apart. None the less it was great tumbling from Blake.
Ellie (11/12's) also had a hard couple of days after arriving in Bulgaria. Sickness affected her training in the beginning but luckily her event was on the last day. She came out strong showing some very impressive technique and stuck her passes in the prelims. This landed her in the finals qualifying in 8th position. She competed first in the finals and held that spot for a while. Two American athletes performed some difficult routines and took out 1 and 2 and Great Britain took out 3rd place. It was only .3 from half a step on her landing which separated her from the bronze medal position. She finished in 4th position.
Ethan (11/12's) was also up on the last day and he unlike some others had great performances and training in the lead up. His 1st pass was strong, achieving the 2nd highest score out of his whole event but a fall on the landing of his 2nd pass had us all thinking he had missed his chance for the finals. We were wrong and the high score from his 1st pass had him qualify for the finals in 8th position. He competed first and tumbled very well. He held the equal 1st place with a Russian athlete right up to the last competitor, another Russian, who bumped them into 2nd place. Equal 2nd place and the silver medal! How fantastic! A medal for Australia in tumbling has not been won for many, many years. A very promising result for Ethan being so young with a bright future ahead!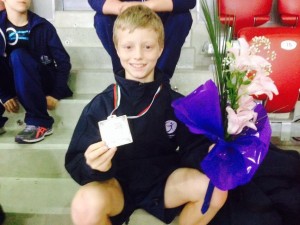 We are so very proud of all the athletes and we look forward to their next appearance on the world stage. Well Done!!