Our Team
All staff and volunteers at KSTP are required to make a firm and open commitment to child protection and adopt procedures and practices in accordance with the child protection legislation. Therefore, all staff have their current Working with Children Check, First Aid along with the appropriate level accreditation for the classes they teach.  Our team are all fully vaccinated.
The Dima and Rebecca Kachan Story



Dima and Rebecca met in France in 2006. Dima was tumbling in a troupe with the Moscow Circus while Rebecca  was dancing in a show in Strasbourg. When Dima's act joined Bec's show, sparks flew immediately! They worked together for the next 6 months and once breaking through the language barrier, they were inseparable. Pre arranged contracts and visa difficulties kept them apart for the most of the next year but once Bec had completed her contract in South Korea, she was on the first plane to Minsk to be reunited with her waiting fiancé. They were married in Belarus in August 07 and intended to continue performing where ever they could find work together. They had always planned to one day move back to Australia to start their family so when a contract in Spain fell through, they felt that day had arrived. They landed in Sydney in April 08 and have been working together in Gymsports ever since. Since opening KSTP in 2009 their main focus is now on tumbling. They have four children Alexsa, Timofei and twins Ivan and Isaac who have been in the gym since they were babies. The gym is their second home and adds to the family atmosphere of the gym. Dima received his citizenship in 2013 and proudly calls Australia home.
Dzmitry (Dima) Kachan

Owner, Director, Head Coach, High Performance Coach, Judge



Dima began tumbling and trampoline at the age of 6 when he was scouted from a playground in his home town of Gomel in Belarus. He began attending one of the country's best full time sport schools and by the age of 13 he had attained his 'Master of Sport' in Tumbling. At 16 Dima chose to further his skills and joined the world renowned 'Great Moscow Circus'. For the next 5 years Dima toured all over Russia and Europe performing in a variety of acrobatic numbers such as Russian Bar, Russian Swing & Tumbling Troupes.
Dima has been appointed the State and National Tumbling coach for the past five years. He has produced many World Age Champions and many more finalists. His passion for the sport has seen him develop the most sophisticated gym in Australia, his knowledge and expertise are regularly sought out by coaches throughout the world. Dima overseas all development programs and works closely in mentoring all our coaches.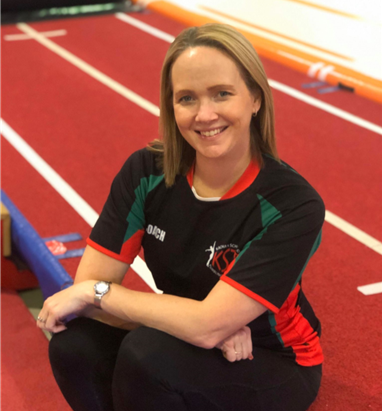 Rebecca Kachan
Owner, Club Manager, Performance Director, Coach Coordinator
Rebecca has been dancing since the age of 3 and is trained in all genres of dance. Her dancing lead to an interest in Rhythmic Gymnastics and so began her training in the sport at the age of 9. Rebecca became a professional dancer in 2000 and began performing across Australia. She then went to work on board Costa Cruise Liners and for 2 years toured the Baltic, Mediterranean and Caribbean Seas. She has also worked in some of the most famous venues in Europe and Asia, including 2 years as Dance Captain in the cabaret country of the world, France.
Rebecca has bought her experience of dance into the programs, ballet provides great core strength and technique which is an integral part of the sport. The purpose of ballet and strength is to create strong lines in athletes. 
When Rebecca is not coaching KinderGym, Tiny Tumblers or the Stage 1 Squads she is managing the business and working closely with the coaches providing guidance and support.  She holds KSTP's accreditation for Child Safe Reporting and Mental Health First Aid which are Gymnastics Australia initiatives to keep children safe.
Vanessa Gunns
Trampoline & DMT Coordinator, Coach
Vanessa has been involved in trampoline sports as an athlete from an early age, her love of the sport has seen her continue on in a coaching role. Vanessa has played an integral role in developing KSTPS's growing reputation in double mini trampoline including a silver medalist at the 2017 World Age Competition and a Gold medalist in the 2018 and 2019 World Age Competition.
Vanessa is currently on maternity leave after having her twins in 2021.
Jack Hemmings
Coach, High Performance Athlete, Judge
Jack came to KSTP at the age of 12 as an accomplished all round athlete within trampoline sports.  Soon after he shoce to focus on tumbling.  Jack is a full time coach at KSTP, completely immersing himself in all facets of the sport as an athlete, coach and judge.  He is a true role model in the gym.  Jack is a member of the National Tumbling Squad and KSTP/Gymnastics NSW High Performance Tumbling team.  Jack continues to compete at an international level.
Cheyanna Robinson
Coach,  DMT Athlete, Judge
Cheyanna's passion in this sported started with trampoline and double mini tramp when living in Brisbane.  In 2018 Cheyanna represented Australia at the World Age Group Competition in Russia where she became the 17-21 World Age Champion on DMT.  In 2019 Cheyanna moved into the Senior division competing successfully at her first World Championships.  Cheyanna is a member of the National DMT Squad and a full time coach at KSTP working on many development programs while concentrating on her own training and goals.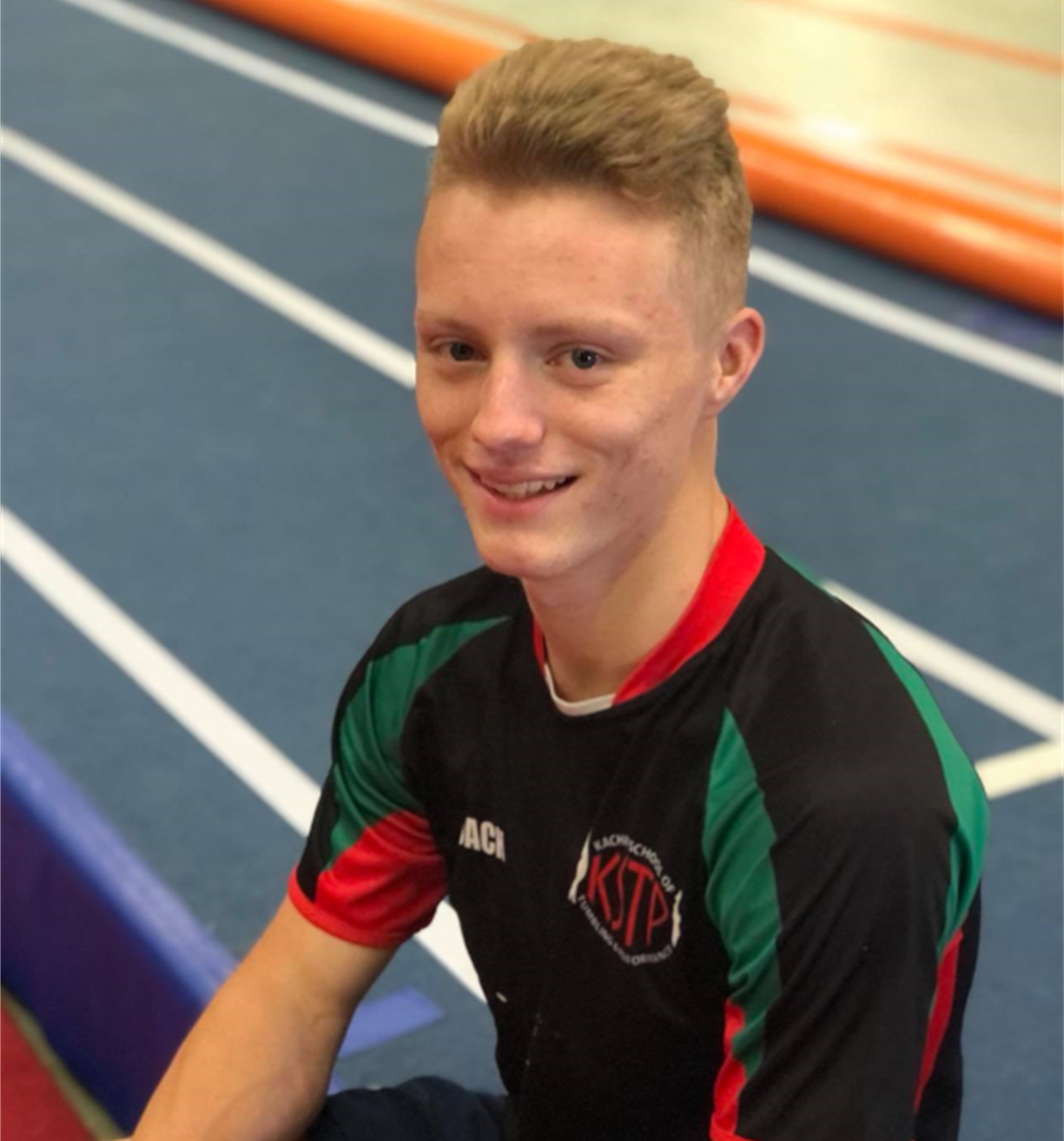 Ethan McGuinness
Coach, High Performance Athlete, Judge
Ethan came to KSTP as an 8 year old who wanted to learn to do a backflip when he scored a try in football. He was quickly moved through the pathways and had to choose between football and tumbling, the rest is as they say history. He is a member of the National Tumbling Team and KSTP/GymNSW High Performance Team, he holds a silver and gold medal from World Age Group Competitions. In 2019 Ethan competed in his first Senior World Championships where he made the final.  In 2020 he competed at the World Cup in Baku winning the Silver medal. 
Krystal Muscat
Coach, Judge
KSTP was Krystal's first introduction to GymSports at the age of 8.  She showed great potential and quickly worked her way up from the recreation programs to the advanced competitive program.  Krystal successfully represented KSTP at many State and National Clubs competitions. 
Retiring from competitions, Krystal's love of the sport turned to coaching.  She holds her intermediate accreditation and coaches our levels stream squads full time.  Krystal is studying Bachelor of Exercise and Sports Science at university.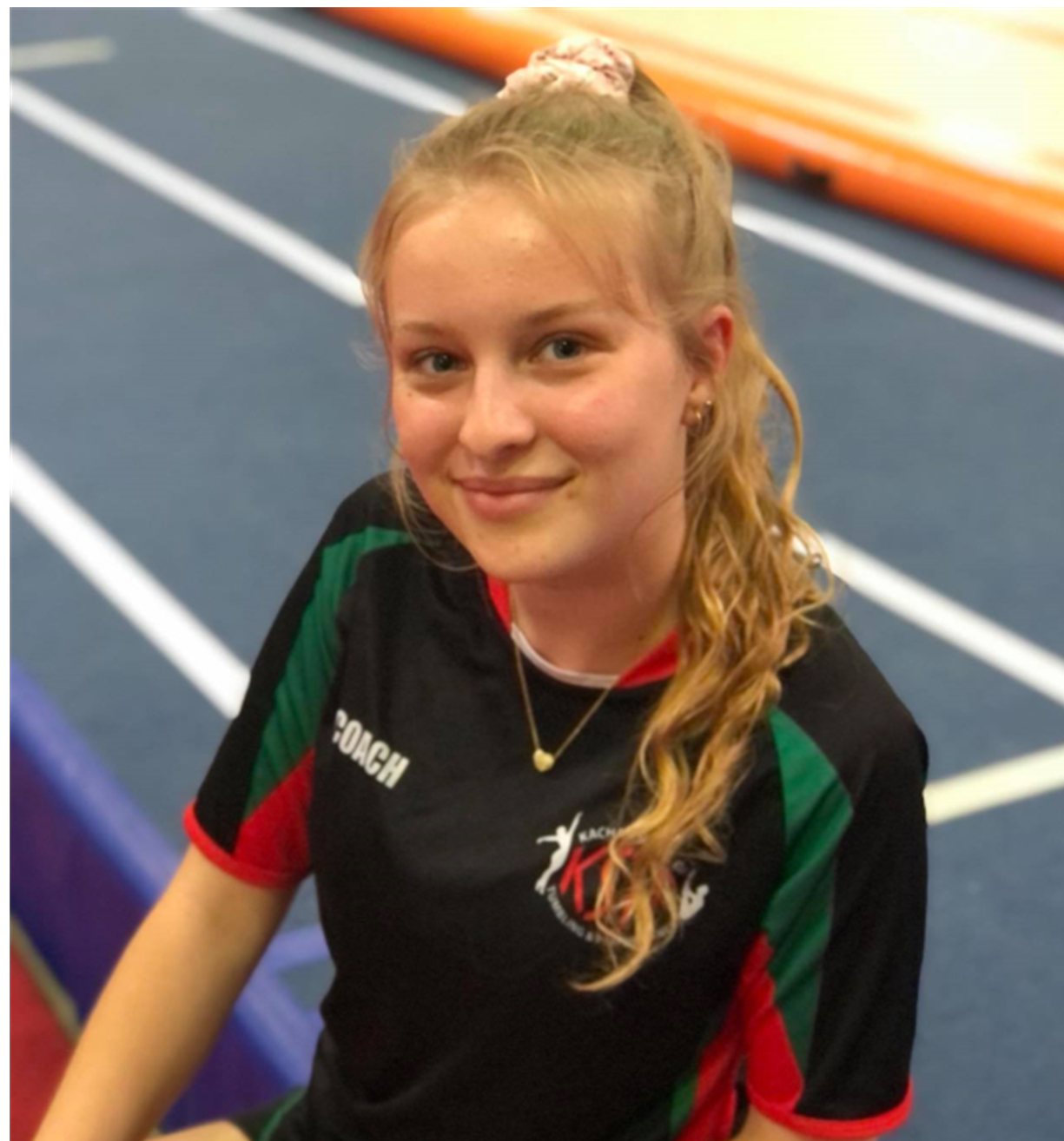 Tahlia Kaden
Recreation Coach, Elite athlete
Tahlia is an active member of our Elite Squad where she trains four day a week working towards her goals and ambitions.
She has successfully represented KSTP at State Championships and National Clubs Competitions and is the National Tumbling Champion in Level 7 for 2022.  Tahlia first gained an interest in coaching by helping at our school holiday programs, from there she went on to do her accreditation through Gymnastics Australia.  Tahlia is studing Bachelor of Exercise and Sport at university.
Jeremy Wong
Recreation Coach
Jeremy is our newest team member at KSTP and brings with him a love of the sport and desire to teach tumbling.  Jeremy holds his intermediate accreditation in Mens Artistic Gymnastics (MAG).
In 2020 Jeremy completed his studies and is a certified Physiotherapist,   Jeremy has already become a hit with the students he coaches.
Koralee Catlett
Recreation Coach, Judge, High Performance Athlete
Success on the competition floor is abundant for Koralee.  Not only at State and National events, Koralee has competed internationall, winning her two events at the 2019 World Age Group Competition in DMT and Tumbling is a record for an Australian athlete.  Koralee who is a member of the National Tumbling and DMT Squad manages her time well between her senior years in high school, training and coaching and strives to pass on her passion to the younger athletes.  Koralee holds her judges accreditation. 
Alysse Duffy
Recreation Coach
Alysse has been a member of KSTP from a young age and is now part of the Elite Open Age Squad and is on the National Tumbling Squad.  Alysse was a member of a successful KSTP tour to Spain in 2019 to compete in an invitational competition.  Alysse first helped out at our school holilday program and realised how much she enjoyed working with the children, soon after she obtained her coaching accrediation and is now one of the recreation coaches who also balances her own elite training with senior school years.
Breanah Cauchi
Recreation Coach, Judge, High Performance Athlete
KSTP has been Breanah's only gymnastics club, starting from the time she could walk with her parents being part owners of KSTP.  She has moved trhough the pathways from KinderGym to the High Performance Team where she was the bronze medallist in the Tumbling event at the World Age Group Championships in Tokyo in 2019.  Breanah was selected on the National Tumbling Team.  She is transferring her love of the sport to coaching as one of our recreation coaches.  She also holds her accrediation in judging.
Ella Hamilton
Recreation Coach, Judge

Ella was an athlete with KSTP since the young age of eight, competing in many State and National events.  Ella was a part of our successful International tour to Spain to compete in an invitational competition.  Ella recently retired from the sport finishing her time in the High Performance Squad to concentrate on her studies and the coaching side of Trampoline sports, passing on her knowledge and enthusiasm to the young students who are new to the sport.  Ella holds her judge's accreditation.
Rylee McKeon
Recreation Coach, Judge, High Performance Athlete

Rylee is a member of the Gymnastics NSW High Performance Team and National Tumbling Squad.  She has been with KSTP from a young age and has moved through the pathway to become a successful High Performance athlete.  Rylee has competed at the World Age Group Competition in 2019 placing 10th in the world.  Transferring her love of the sport she enjoys coaching our recreation and holiday programs. Rylee is looking forward to obtaining her judges accreditation.  
Madison Rodd
Recreation Coach, High Performance Athlete

Madison is a successful international competitior and a member of the Gymnastics NSW High Performance Team.  Competing at the 2017 World Age Group Competition and winning the silver medal in DMT and again winning silver at the same competition in 2018 this time in her Tumbling event.   Madison commenced assisting the coaches at the holiday programs and enjoyed it so much she obtained her coaching accreditation.  She now balances her school work, training and coaching.
Vicky Cauchi
Client Liaison, Accounts Officer
Vicky was one of the founding partners of KSTP, in fact the first classes were run out of her shed before we found a venue. Her children have all trained with KSTP, her youngest Breanah is an international representative within the High Performance squad. While no longer a partner Vicky continued in her role of accounts officer and working the front desk in the afternoons where she enjoys the club atmosphere and getting to know the families.
Tracey McGuinness
Client Liaison, Administration Officer
Tracey has been involved with KSTP since 2008 initially as a parent before bringing her administration experience to our team in 2013. Tracey's son Ethan started in our recreation program working his way to the High Performance program and becoming World Age Champion at the age of 15. Tracey thrives in her role attending to the front desk during the day and assisting Rebecca and Dima with administration duties such as planning international club tours.